Disclaimer: this post is brought to you by my ever-empty bank account.
I've been getting a
lot
of fall fashion emails from brands recently, with pieces I can't seem to avoid clicking on. Especially this fall, I can't seem to stop myself from buying anything and everything that promises to keep me looking chic while staying warm. Nevermind where I live in California never dips below 50 degrees.
I usually splurge on a few higher-priced items each season but round out my looks with more inexpensive pieces. Here are a few things I have my eye on, from retailers I love, all under $50:
The Perfect Layering Piece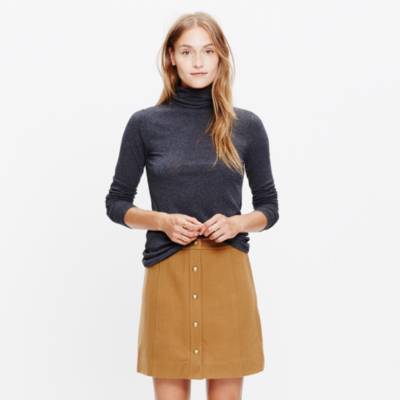 Turtlenecks are one of the sexiest, most underrated pieces of clothing. Thrown on over some straight-leg jeans and under your favorite wool coat you can't fail. This slim style ensures effortless layerability and maximum softness, which I love. Madewell describes this as very "Paris in the 60s" and they're not wrong.
The Oxblood Bag
Faux Leather Chain-Strapped Crossbody
from
Forever21
, $22.90
Forever21 has been so good these past couple seasons and their latest offerings do not disappoint (I have a co-worker who swears by their newer, branded shop). I don't always love the shapes or styles of F21 bags, but the chain strap on this one combined with the push clasp makes it a must have. I looooove the ultra-shiny hardware can see this working with any fall outfit.


The 70s Revival
Ah, ASOS. My go-to fast fashion outlet. Since I will never be sick of the 70s (Jodie Foster's baby prostitute character in Taxi Driver is one of my all-time favorite style inspos) I can't get enough of this skirt. Most of the denim minis coming back make me sick to my stomach but this one I adore and can picture wearing with a gorgeous chubby fur coat.
The Go-To Black Dress
For the girls who buy a new "go-to" black dress every season - this one's for you. The perfectly-over-sized, not-too-billowing silhouette is to die for and the soft viscose fabric is sure to please. These kinds of dresses make my favorite one-and-done outfits. Add literally any shoe you want, a few handfuls of miscellaneous jewelry and you're good to go.


The Platform Shoe
Part creeper, part lace-up and part platform? Zara owns my soul. I have a similar blush colored pair from ASOS but I'm considering another since they're so functional. These kind of shoes elevate a look (literally, you'll be elevated) where heels would be too much but flats wouldn't be enough. Currently OOS on the Zara site but put your email in and they'll contact you when they re-stock.


The "Throw it Over Anything" Vest
Layers, layers and more layers. Vests add warmth and interest to outfits without adding bulk, which I love, and this white one adds a pop of brightness to any moody fall outfit. I can see this looking amazing with an all-black outfit, suede booties and a rich brandy bag.
___________
I thought about including a jacket here but there's nothing I'm head-over-heels for under $50. I'll do a round up of my favorite fall coats soon. There are some cropped trenches and faux furs I've been seriously lusting after, so stay tuned!